...About Us
SRC is a family owned and operated business run by Rick Swope. Dr. Swope is a former military police officer, police officer, and deputy sheriff, responsible for investigating, or assisting with investigating, several thousand automobile accidents. He has completed over 2,500 hours of law enforcement training.
Dr. Swope has published numerous articles related to accident reconstruction in magazines, as well as chapters in several books. Dr. Swope has also been a featured speaker at various seminars in providing information related to accident reconstruction.
He is certified by NHTSA as an instructor in the area of field sobriety testing, for both students and instructors, and he has written several hundred training outlines in this area for use by police agencies and other organizations. Dr. Swope is a former DUI Task Force Officer and Breath Operator. He has also published numerous articles in magazines as well as chapters in books relating to breath and field sobriety testing. In addition, Dr. Swope has performed scientific studies and examinations relating to the Intoxilyzer 5000, as well as other related testing. Dr. Swope has also been a featured speaker at seminars related to breath testing.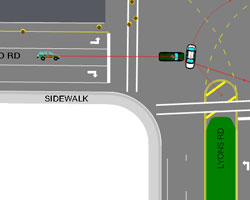 SRC performs work on accidents involving pedestrians, automobiles, motorcycles, trucks, and heavy trucks/equipment. In addition, SRC maintains the equipment to perform downloads for both automobiles and trucks. SRC focuses on forensic engineering involving accident reconstruction and crash analysis for all motor vehicle accidents.
Dr. Swope has provided expert witness testimony in the areas of accident reconstruction and DUI cases, which include breath testing and field sobriety testing. He has provided such testimony for both plaintiffs and defendants in courts throughout the United States, and has been qualified and recognized as an expert in such courts.
Dr. Swope has a Bachelor of Arts degree from St. Thomas University in Miami, Florida; a Master of Science degree in Technology and Engineering from the University of Miami in Miami, Florida; and a Doctor of Philosophy degree in Engineering Management from California Coast University in Santa Ana, California.
Please contact SRC for additional information relating to services, professional experience, education, and training.